Friends of Oceano Dunes in collaboration with Pismo Beach Chamber of Commerce and Beach.Drive.Ride is holding a Access for All & Hands Across The Dunes on Sunday, March 14 beginning at 2pm and continuing until sunset.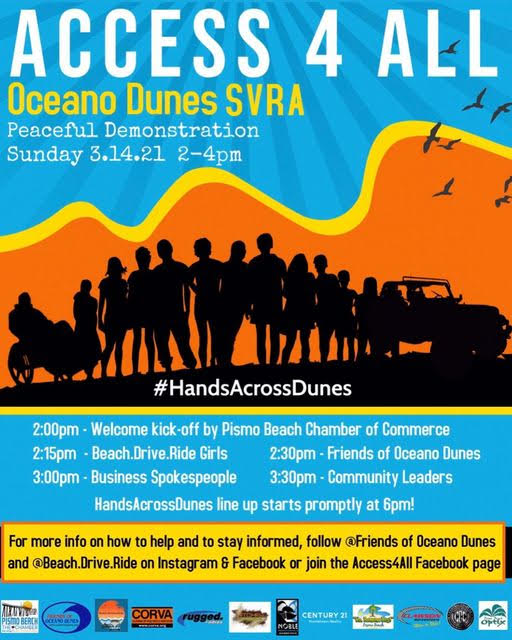 PEACEFUL DEMONSTRATION Opposing the California Coastal Commission 5 year plan to remove OHV from Oceano Dunes!Oceano Dunes, CA – The ACCESS FOR ALL peaceful demonstration will take place at 2pm on SUNDAY March 14, 2021, on the sand just off the Grand Ave entrance to the park. Valerie Mercado and Lisa Kruitbosch with the Pismo Beach Chamber of Commerce will kick-off the demonstration followed by several other organizations, business owners and leaders in the surrounding communities that are opposed to the California Coastal Commission's 5 year plan to remove OHV and camping recreation from Oceano Dunes SVRA. For full agenda go to pismochamber.com. Speakers will take the stage from 2pm – 4pm.
Our ultimate goal is to bring attention to the March 18, 2021 California Coastal Commission Special Meeting.  
Following our speakers we will assemble our Hands Across Oceano Dunes which will take place right before sunset at 7pm. The line-up will begin promptly at 6pm. Everyone will be required to wear a mask and bring their own gloves (attendees will position themselves like they are holding hands and forming a line along the Dunes closest to the water). The starting point will be the farthest North side of the beach that you are able to drive on (in front of Fin's). This is open to everyone interested in supporting "Access for All". Attendees not able to receive vehicle access please feel free to park in the vicinity and walk down.